Canadian Criminal Record Checks
Get Your Personal Background Check Now.
No Waiting In Lines. Ready In Minutes.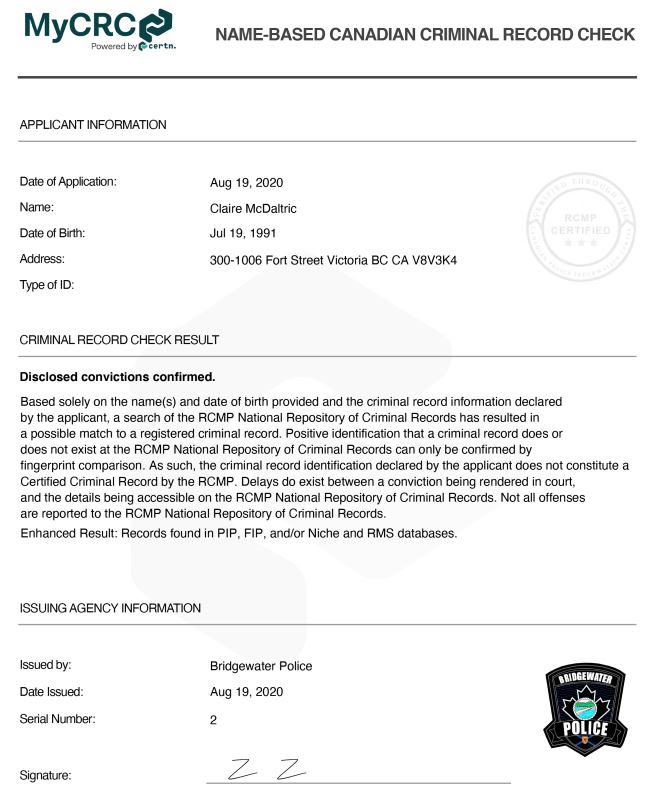 1. Choose your ba

ckground check
Choose from either a public record check or a Name Based
RCMP Criminal Record Search / Criminal Background Search or choose both.
2. Short Questionnaire
You'll be directed to a short application to acquire your
consent, to gather your basic information and to verify your identity.
3. Police Review
MyCRC connects to the police to search for criminal record /
criminal background in CPIC and other police databases. This is NOT a
vulnerable sector check.
4. Results
The results of your criminal record and criminal background
check will be emailed to you in as little as 15 minutes*
The Smarter Way to do Criminal Record Checks and Criminal Background Searches
MyCRC's rapid, automated checks streamline the criminal record check process, reduce your cost and allow you to give your employer, volunteer organization or charity – fast, accurate results. Get Canadian criminal record check reports in minutes instead of days. The fastest criminal background search.
Where Does Our Background Check Data Come From?
Your MyCRC background check report comes directly from the RCMP's Canadian Police Information Centre (CPIC). This information may include searches of other local and national databases, including your local police station. This process is entirely online and you will get your check emailed to you within 15 minutes. You do not have to be physically present at a police station.


MyCRC does NOT offer Vulnerable Sector Checks.
Our checks are NOT suitable for immigration or visa applications.